JOURNAL: Lessons learned solo bike touring
December 11th, 2015
Journals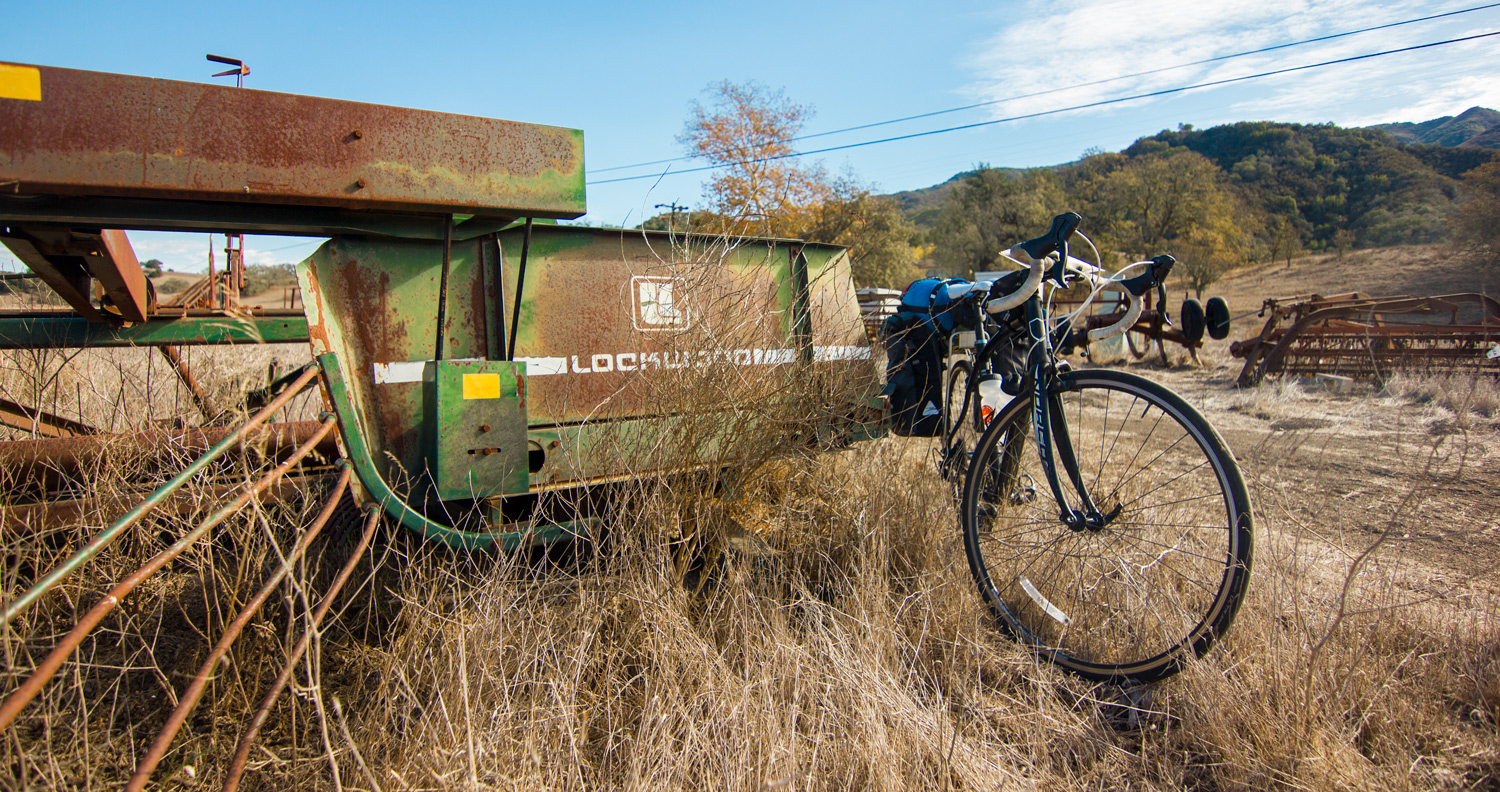 This past month I went on a bicycle tour along the central California coast from Monterey Bay to Santa Barbara. Having a week-long Thanksgiving break and nothing to do in Champaign, I decided to head out to warm California for an adventure. Seven days, 320 miles, and some incredible people met later, here are some things I learned and took out of the trip:
Follow the solar schedule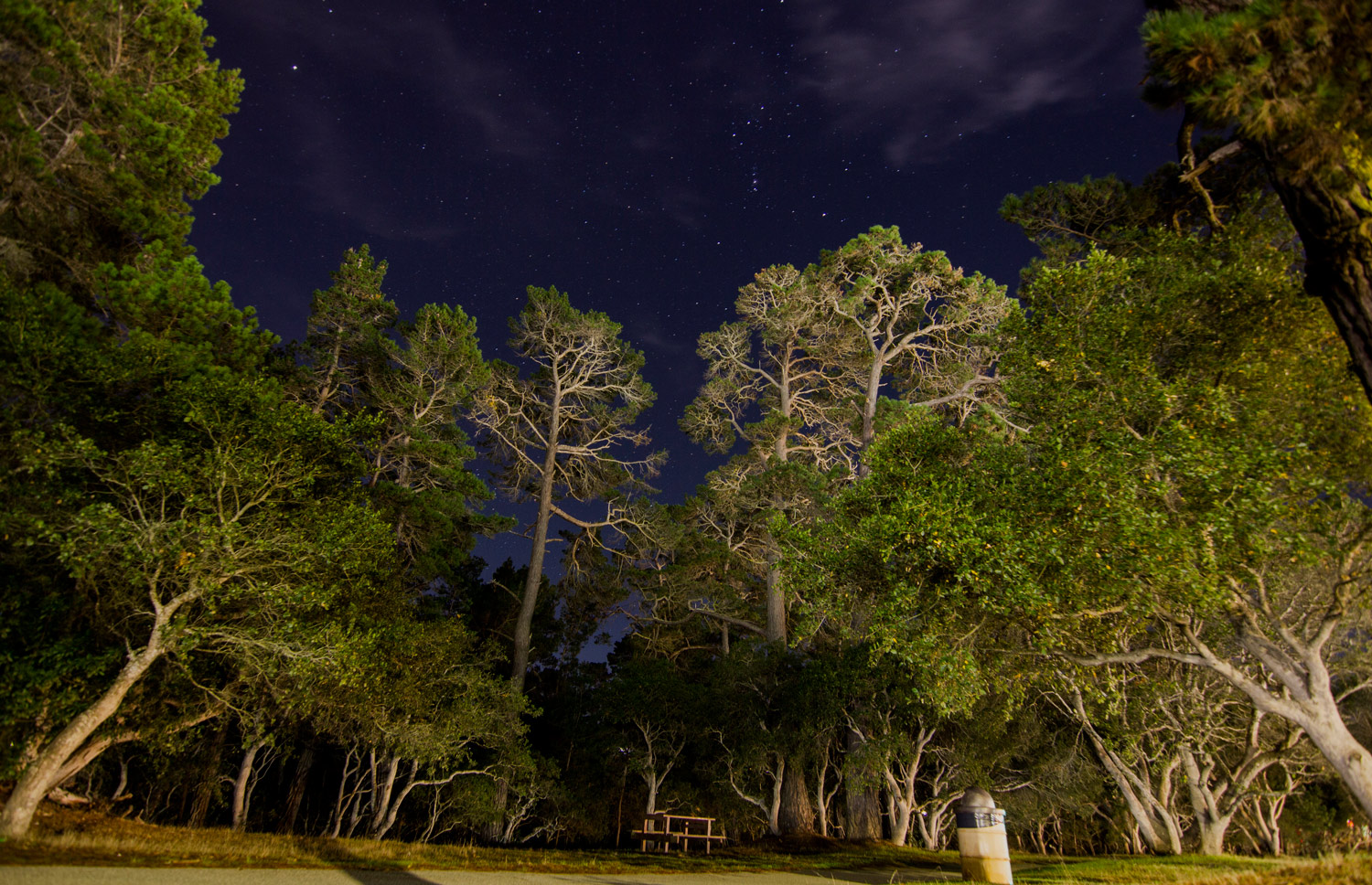 Something I very quickly realized was how important sunlight was when out touring. On the first night, I was five miles out from Pfeiffer State Park where I was going to set up camp when it became dark. Cycling down highway 1 at night with no camp set up yet, no food, no cell service, and cars driving by in as much of a rush as I was was no fun. Make note of when sunset is, and then subtract an hour from that. Make it to camp before then.
Food, shelter, water, fire
These things quickly became top priorities for me as soon as I left the Monterey-Carmel area. Food didn't end up becoming as big of a problem as I thought (there were general stores every 30 miles or so along the route), but getting properly hydrated and preparing for the next segment water-wise was something I had to be actively aware of.
Time of year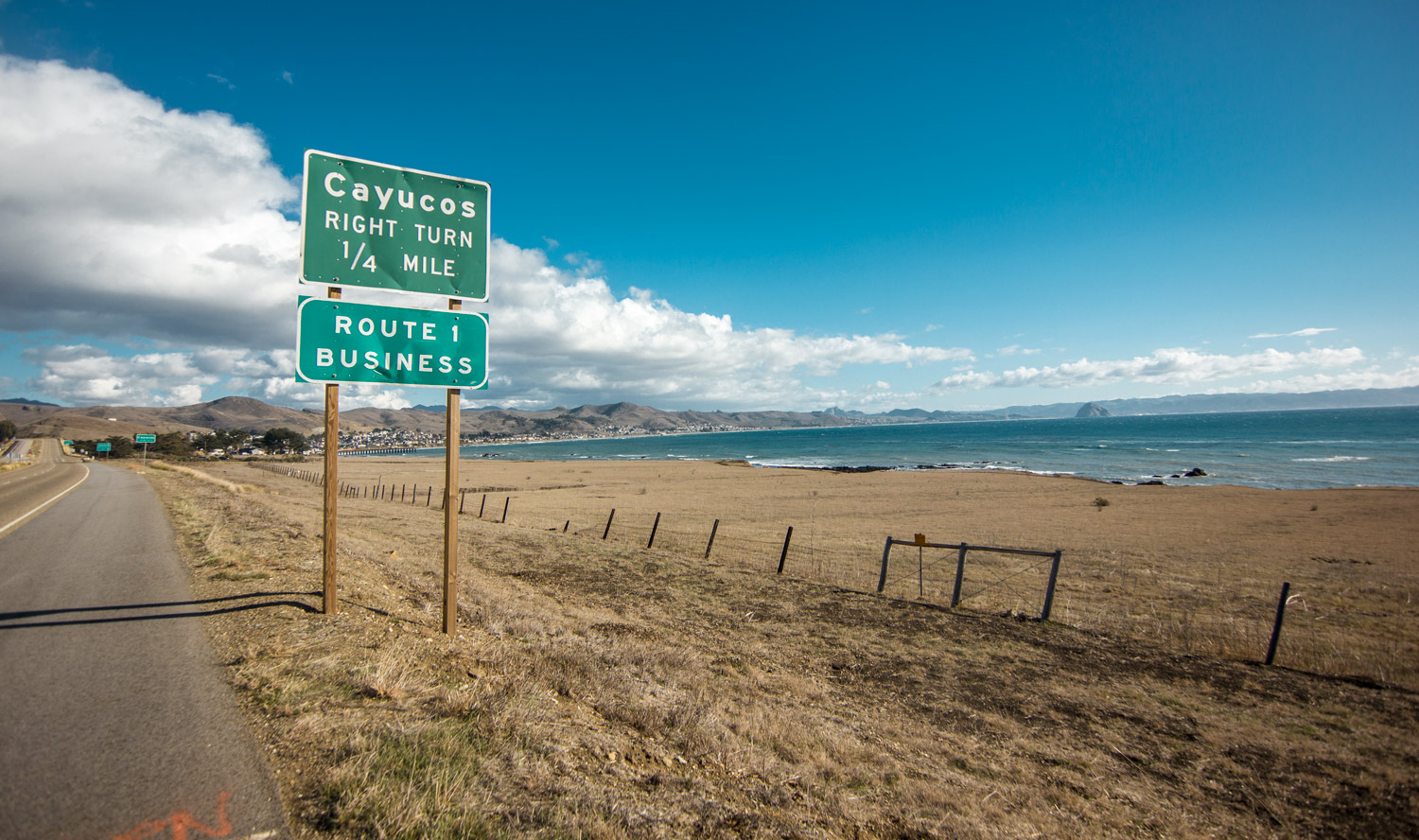 Summer is the prime season for California bicycle touring, but I still met quite a few cycle tourists along the route (a lot of whom were doing longer tours and were passing through). Going during late November was nice because there was no problem looking for open campsites and there was less traffic in general, but the extra ~two hours of sunlight if I went in the summer would have been nice to have.
Solo vs group
I made it a point to go out solo because I wanted to be self-sufficient. It was also nice to be able to more or less completely isolate from the world for a week and just have time to think. When the sun set, all I could really do is read, journal, listen to music, sleep, or talk to fellow campers. By the end of it, I loved having time alone to do whatever I wanted with no distractions.
Things to bring, things not needed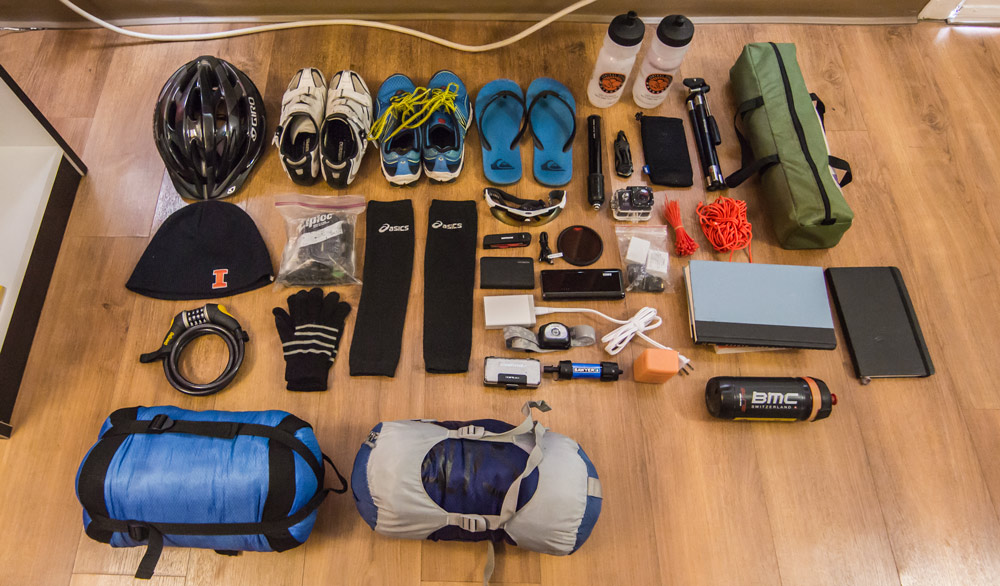 By the second day I had a big list of things I did not need to bring:
I didn't need to bring so many t-shirts
DSLR camera bag stayed at the bottom of my right pannier from start to finish
18-55mm lens wasn't used much, the wide Tokina 11-18 was enough for most shots
Stove and cup - water and food was more available than I thought
Four books - I didn't end up reading much at all and instead journalled
Water filtration system
So many spare electronics - the power bank lasted much longer than expected and I was able to recharge on the sixth night
The list of things I wished I brought was thankfully very short:
Tent light - headlamp isn't very useful in lighting the entire tent
Damp-Rid - it got down to 35F some nights so a moisture absorber to stop condensation on the inside of the tent would have been much welcomed
Bluetooth speakers - earphones do the job but I had one ear open most of the time to listen for cars
Shoe covers for the cleats - toes get cold real quick in the wind
Favorite day?
Its got to be the third day from Plaskett Creek to San Simeon State Park. As soon as I left camp, it began to pour so I had to take a hour long break at the top of the hill. Had a nice sandwich (first real food in two days) and met a European couple who were halfway through their Alaska-Argentina bicycle adventure. Two big climbs and descents later, the clouds finally cleared out, revealing the most beautiful stretch of highway along the coast. The tailwind was gigantic too so I managed to make it to San Simeon SP before it became pitch black. The tent sites at San Simeon are far away from the RV sites, there was nobody else around, and there was zero cell service, so I had the entire night to myself. Went through a couple albums and did some night photography.
Manage time
You'd think I would have learned my lesson after the first night, but nope. The fifth night headed to Santa Maria, there was a stretch of rolling hills that I wasn't expecting that really took the energy out of me. I didn't make it to camp until a full hour after it went dark.. not fun.
Prepare for COLD and wet weather
It got down to almost freezing temperatures in the mornings, which I wasn't prepared for. Didn't end up leaving the tent most days until 9 when it got warm enough. I didn't bring a rain jacket either so the third day was pretty miserable. Stuff didn't dry until next morning too because it rained that night was well.
Cereal, bananas, granola bars, and beef jerky are your friends
I left Monterey with two bags of beef jerky, a few Clif bars, and a few granola bars. That kept me going until the third day at Plaskett Creek, where I picked up some cereal and dried mangoes. The mangoes and granola bars supplied the carbohydrates, cereal provided vitamins, and beef jerky provided protein. That along with water was enough.
Stretch at night
The first night wasn't very fun. Stretch or you will feel it the next day.
Take it easy and don't make it a race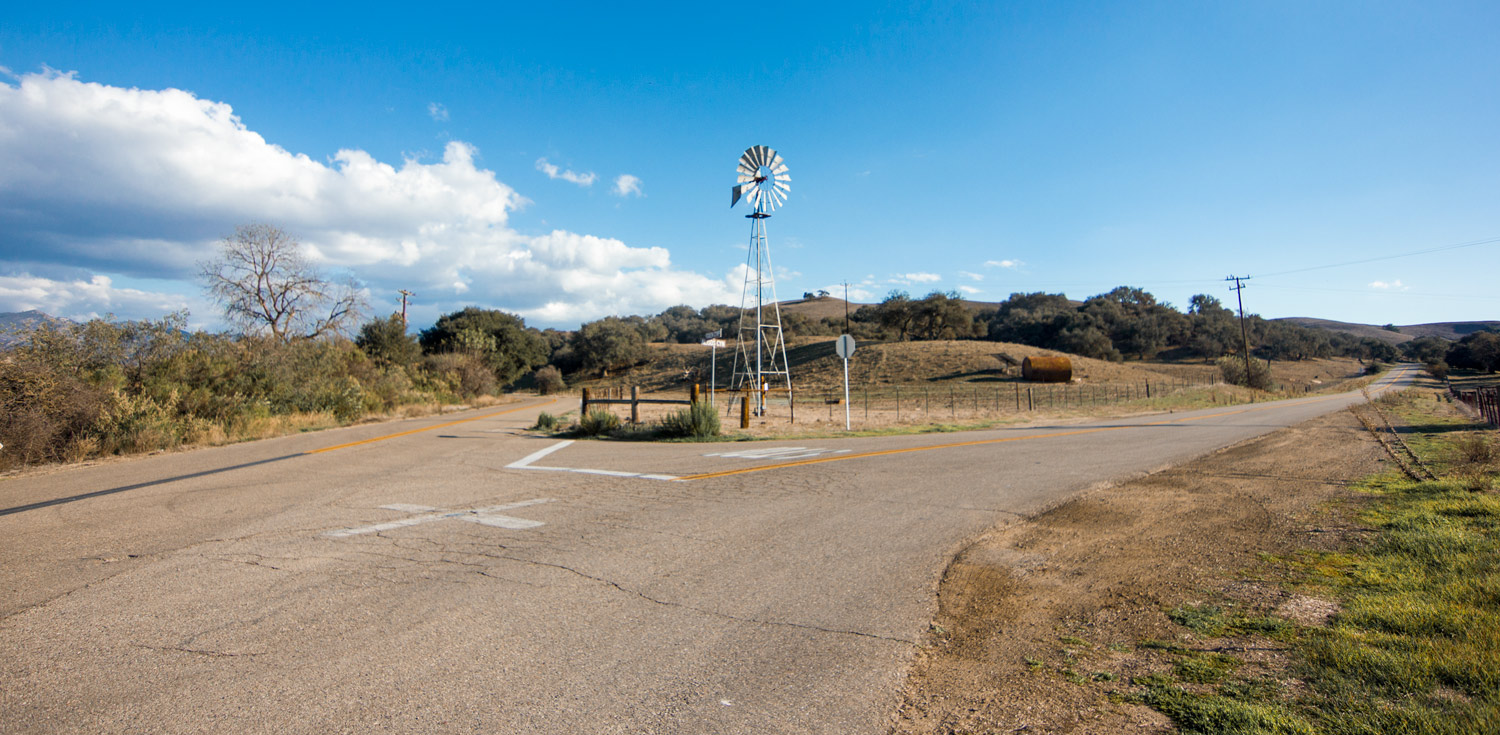 Something that is pretty common in the bicycling community is losing interest in cycling. It definitely happened to me, and a big reason for that is over-obsession with the numbers: kilometers ridden, speed, elevation gain, watts put down, etc. Lesson learned: don't make it a race and enjoy the surroundings. I didn't bring a speedometer, had my phone on airplane mode when I was riding, and didn't look at Strava until after the trip. By the end of the trip I felt really good on the bike for the first time in a long while.
People at campsites are some of the friendliest people
The second night at Plaskett Creek, a couple from San Luis Obispo offered me to join them as I was setting up my tent. We ended up talking for a few hours and they gave me food, water, and a campfire to warm myself up around. Incredibly nice people.
Plaskett Creek campsite was marked as full on the sign as I biked in, but another family immediately offered to let me set up my tent next to their RV - super friendly!!
Fourth night at Montana De Oro, a family who camps there every Thanksgiving weekend invited me to join them. Talked to them for a few hours too and they gave me food and everything!
Drivers are generally nice to bike tourists
Majority of the cars literally drove into the oncoming lane to make room for me, even though I was on the shoulder of the road. The one near miss that I remember was going down the hill after Bixby Bridge, when a Jeep came very close at 35 mph.
Budget more time to explore the local area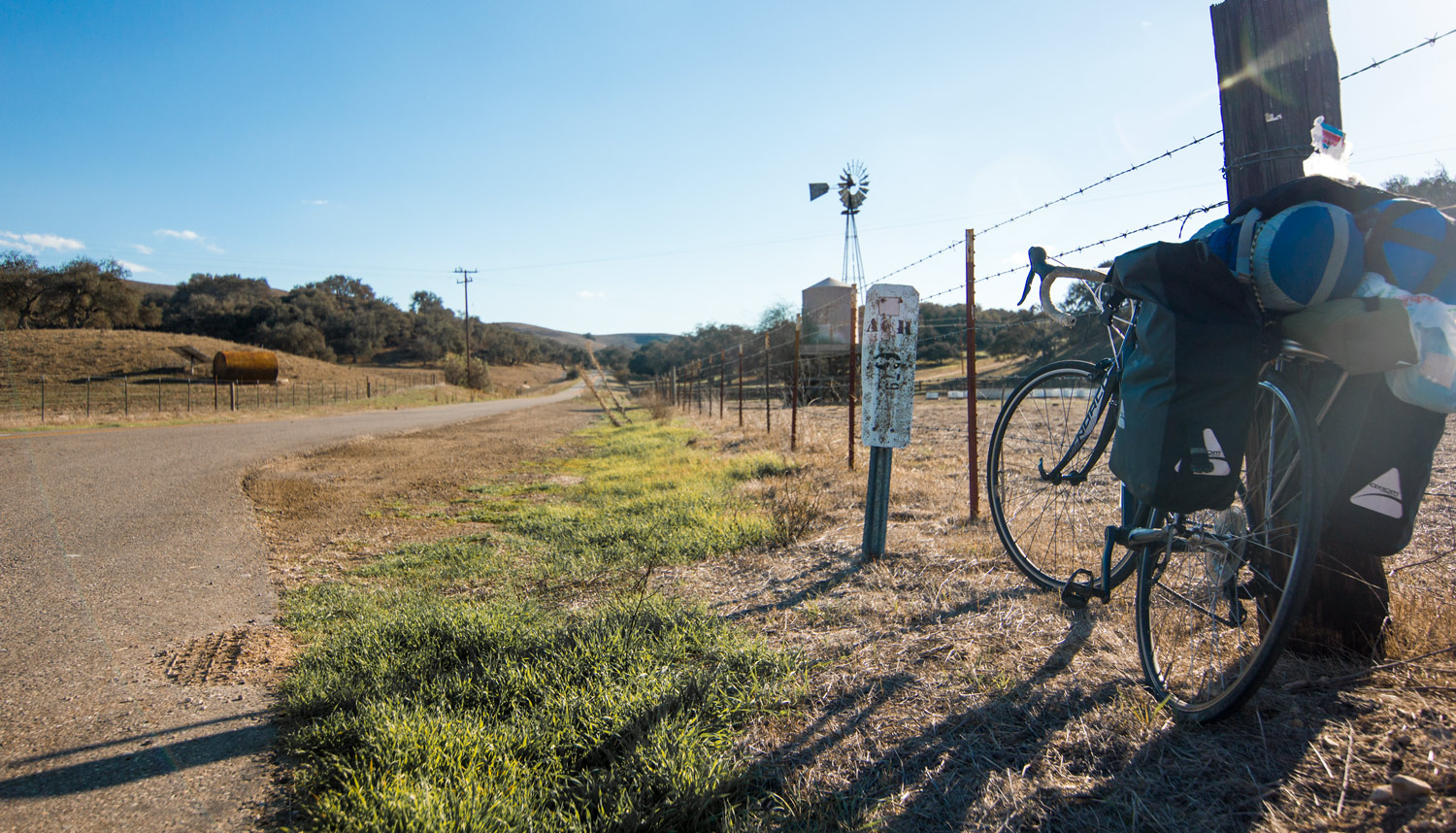 There were several roads along the way that went uphill inland that I would've liked to explore but didn't have time to. Next time I will set out from camp before 12 and spend more time exploring the local area.
Be less prepared
Most of the campsites have hike and bike tent sites for backpackers and bike tourists, so there was no need to spend $30 to reserve a site in advance every day. Only risk in that is that it may be full, but even if it is, people will offer a tent spot like a family did at Plaskett Creek
Have a SD card backup plan
Or don't try to save money and use five different cards of questionable quality. Lost one full of night-time long-exposures and then lost another one when it fell from my bike and cracked.
How to keep warm on the bike
Beanie under helmet
arm warmers
leg warmers
gloves
In that order. If I had brought shoe covers it would slot in right after the beanie.
Equipment and bike handling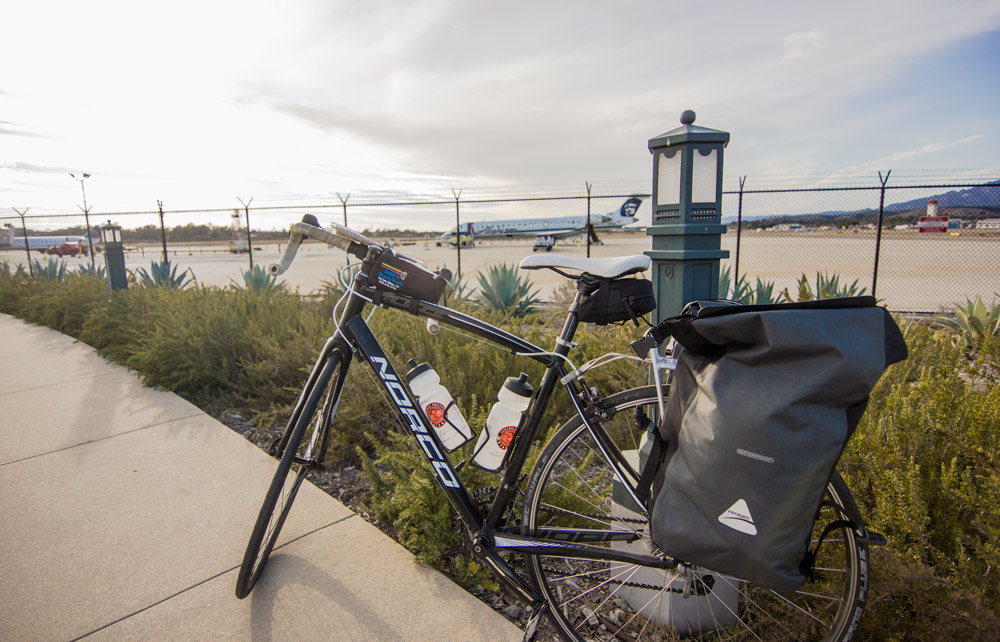 I borrowed the bike, panniers, and racks from Central Coast Outdoors. Bike was an aluminum Norco Valence A3 touring bike with a carbon fork and a 9-speed Sora groupset. Another gear would have been nice but the Sora kit was enough to get over those hills with 10 kilos of gear strapped onto the back.
Tires were Continental Gatorskins - didn't have a problem with them.
With the extra loaded weight on the rear rack, handling was funny at first but I got used to it very quickly. Red lights are tricky because lean it the wrong way and the bike will tip over.
Taut line hitch is also your friend
Used this knot a few times to secure the tent. Also made a make-shift DSLR chest mount.
Next goals
Europe seems especially appealing with its bicycle culture and massive hills. Some at the top of the list:
Seattle - San Diego
Norwegian west coast
Iceland
Trip itinerary and Strava routes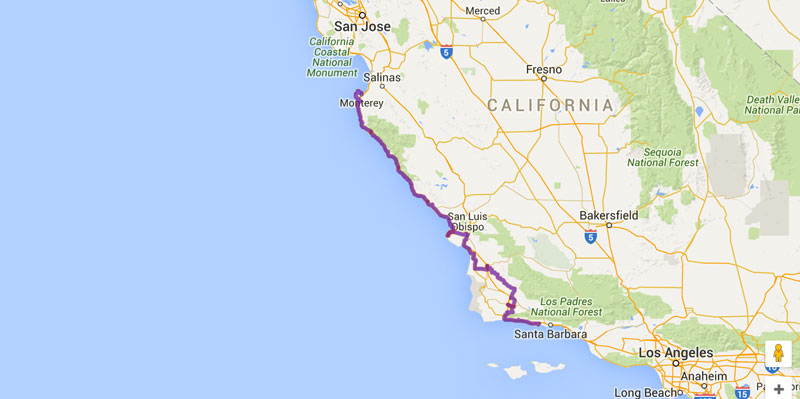 320 miles, six nights, seven days.
Monterey - Pfeiffer Big Sur State Park (47.0 mi)
Pfeiffer Big Sur State Park - Plaskett Creek (34.0 mi)
Plaskett Creek - Hearst San Simeon State Park (37.5 mi)
Hearst San Simeon State Park - Montana De Oro State Park (42.1 mi)
Montana De Oro State Park - Santa Maria Pines RV Park (58.4 mi)
Santa Maria Pines RV Park - Buellton (48.1 mi)
Buellton - Santa Barbara (45.7 mi)