New Computer Build for $700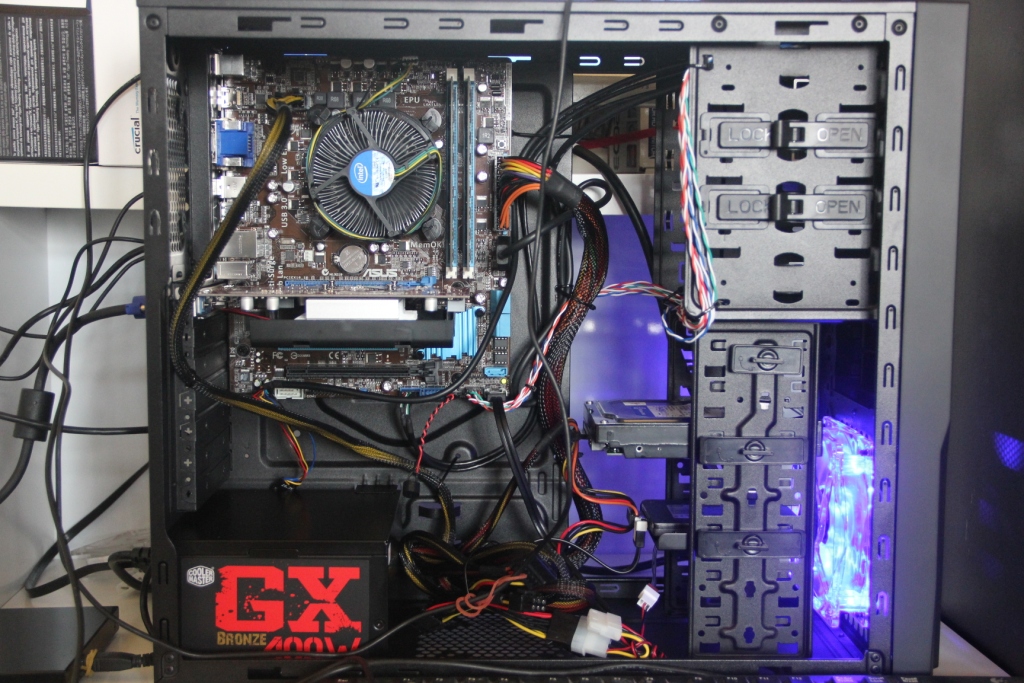 Over the summer I built a new PC to replace my aging Acer. The specs on my old computer were as follows:
• AMD Athlon 64 x2 CPU (90nm!)
• 2GB RAM
• Nvidia 6750 LE
• 120GB Seagate HDD
It's pretty clear that a computer with those specs could not run the latest software without struggling. The last time I checked, the number of hours the computer was on was approaching 30,000. I haven't had a hardware failure yet, which is miraculous because hard drives typically fail well before that. It was time for an upgrade.
Before I begin I would like to thank /r/buildapc, the reddit community who offered advice on part selection. The people there would be happy to help if you ever need anything computer related.
specifications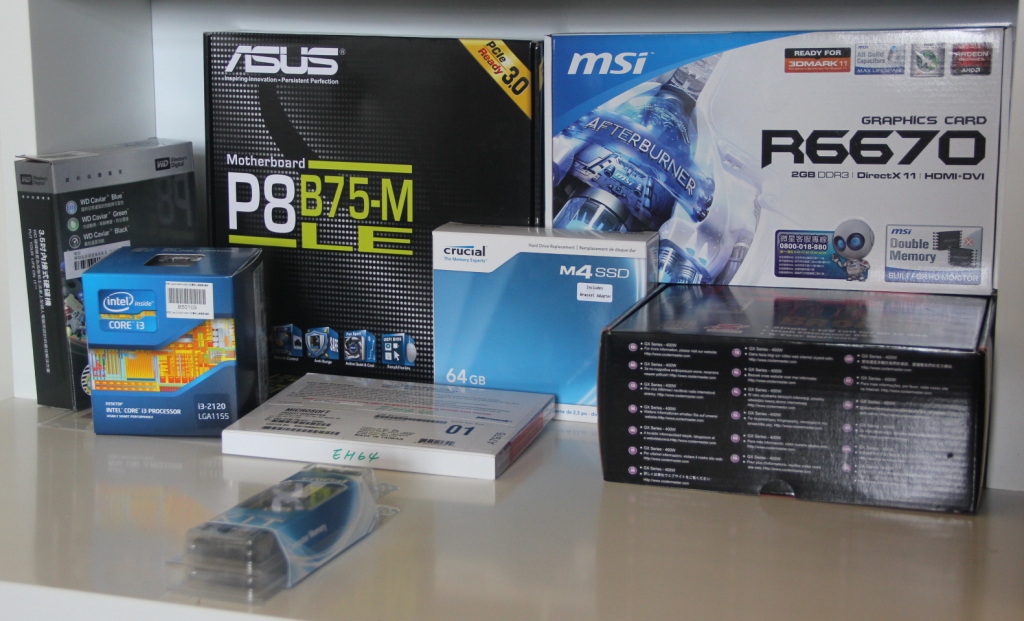 Intel i3 2120 - I don't game or do heavy video editing, so an i3 dual core processor is sufficient.
Radeon R6670 GPU - Once again, I don't game, so I went with something that would still be useful five years down the road. A discrete GPU is good for the light CAD work I do.
ASUS P8B75-M LE Motherboard - There were many motherboards to pick from, but I went with this one for its native USB 3.0 support and low price. The six SATA ports might be useful if I add an RAID controller later.
Crucial m4 SSD - SSDs are below $1/GB now, and with the recent price hike on hard drives, it made sense to get one. The speed bonuses are incredible as well; I benchmarked the random read speed and it was 26 times faster than my old mechanical hard drive.
8GB Crucial 1333MHz RAM - I spent way too much time debating between getting 4GB or 8GB. Right now as I am writing this, my memory usage is at 41%, so I made the right choice in getting 8 gigabytes.
Western Digital Caviar Blue 500GB HDD - Only 500 gigabytes because I don't have large movies to store. The 120GB in my old computer was really all I need.
Cooler Master GX400W PSU - 400W is a little overkill, but at least I know I won't have problems. I followed r/buildapc's advice to not skimp on a power supply.
Cooler Master Elite 431 Case - Nothing special here. Just a case that is compatible and looks nice.
operating system
Windows 7 and Ubuntu are the two operating systems I went with. Dual booting was a pain, but it worked in the end.
price breakdown
| | |
| --- | --- |
| Item | Price (USD equivalent) |
| Intel i3-2120 Sandy Bridge LGA1155 Processor | $119.33 |
| ASUS P8B75-M LE Motherboard | $86.33 |
| MSI R6670-MD2GD3 ATI 2GB Graphics Card | $83.33 |
| Western Digital Caviar Blue 7200rpm HDD | $64.67 |
| Cooler Master Elite 431 ATX Case | $49.67 |
| Cooler Master GX400W Power Supply | $50.00 |
| Windows 7 64-bit Home Premium OEM | $123.33 |
| Crucial m4 64GB SSD | $82.99 |
| Crucial 2*4GB DDR3 1333MHz Memory | $47.99 |
| Dual 17" Monitors | Free |
| Keyboard, Mouse, and Speakers | Free |
| | |
| Total | $707.64 |
build photos
Build photos are on my Picasa web gallery.